If this thread looks out of whack and oversized, just click your refresh button after the images load. You can click on any image to supersize it.
One of the trademark weapons we use are the "Sentinel Steroids" Sentinels. If you want to wreak havok, you must learn to use them. They can be your best ally or worst enemy.
First, you must get the "sentinel deployer". These are located at specific weapon lockers around the maps, and/or spawned pickup locations you may see around the maps.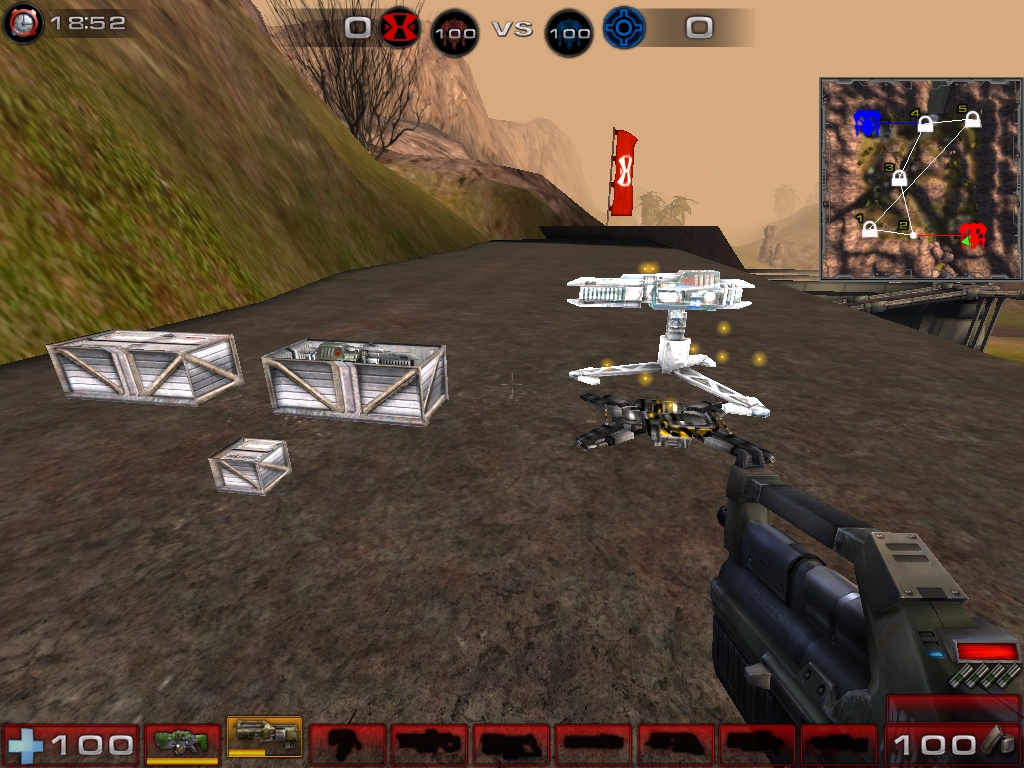 Once you have the deployer, switch or scroll through your current inventory of weapons until you are holding the deployer in your hand.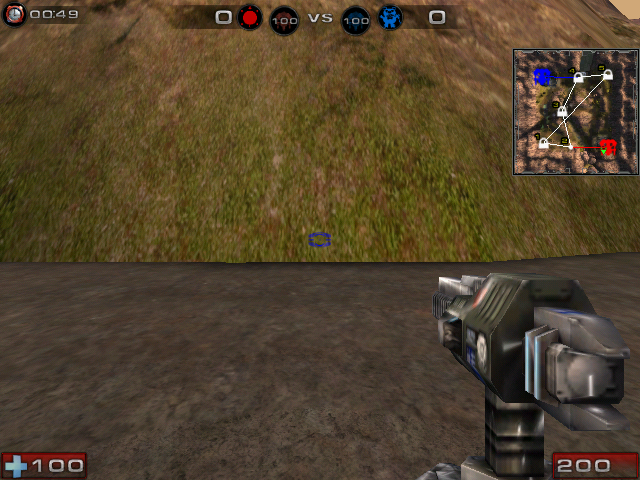 Look at the ammo level. You must have ammo to use the deployer. 200 ammo points is the limit you can hold.
If you have 100 or more ammo points, you can drop a sentinel by clicking left mouse "fire" button. This costs 100 ammo points.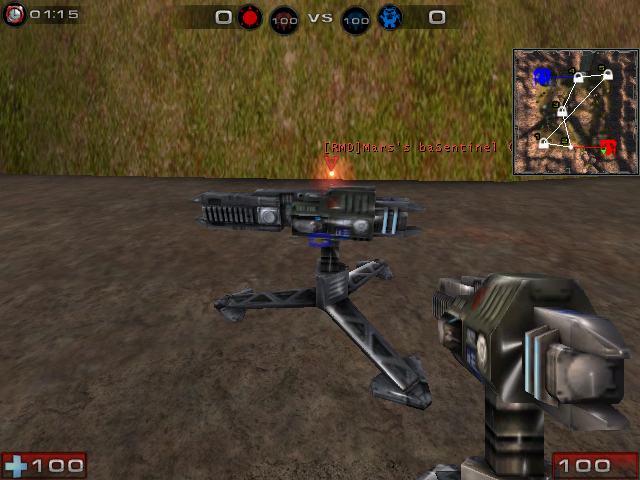 Once you have placed a sentinel, it cannot be moved, so choose the location for best effect.
Now that the sentinel is placed, it is time to upgrade it to a real weapon of mass destruction. Walk right up to your sentinel (you can't upgrade a teammate's sents, only your own) and left click your mouse to pull up the "Upgrade Menu".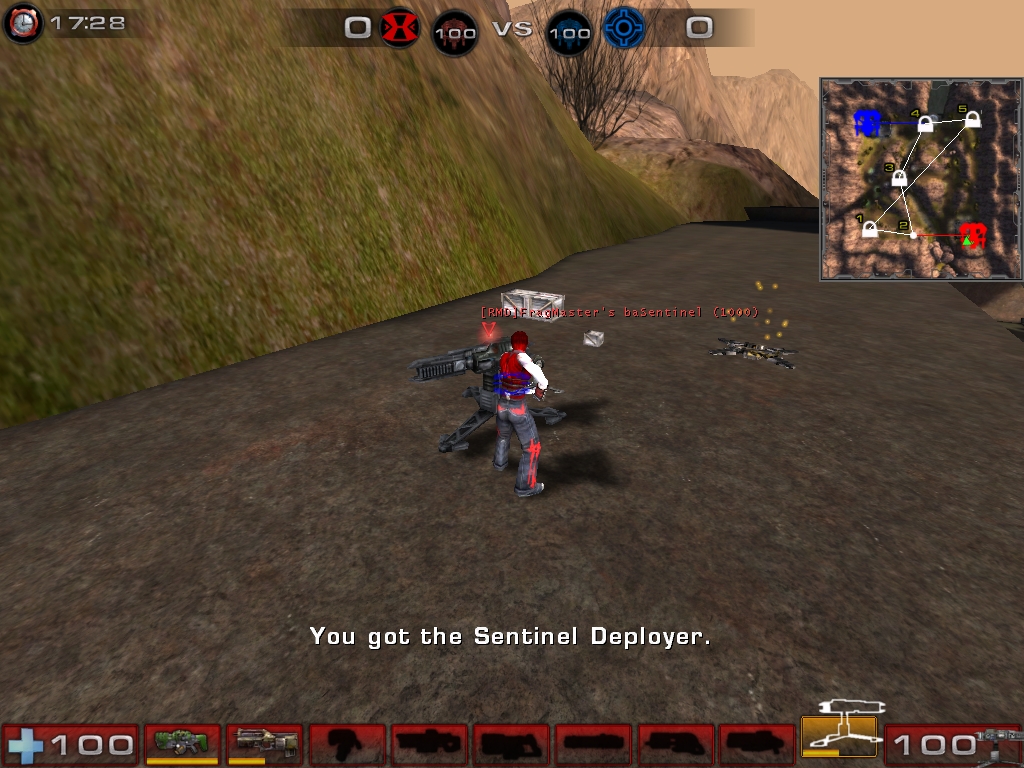 The Upgrade Menu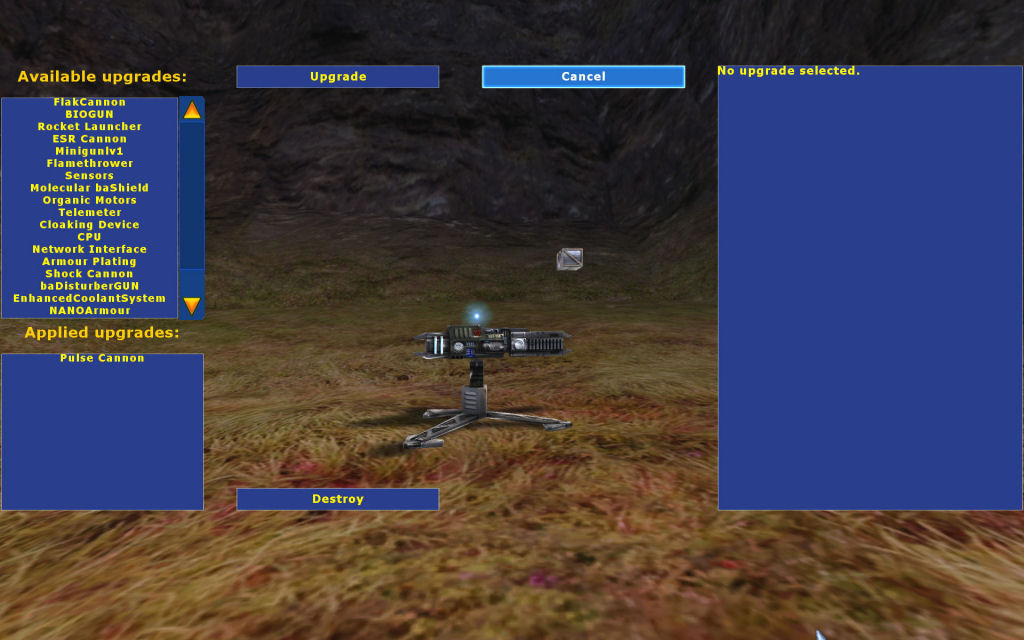 Select the upgrade you want to apply. You must have enough ammo to "purchase" the upgrade.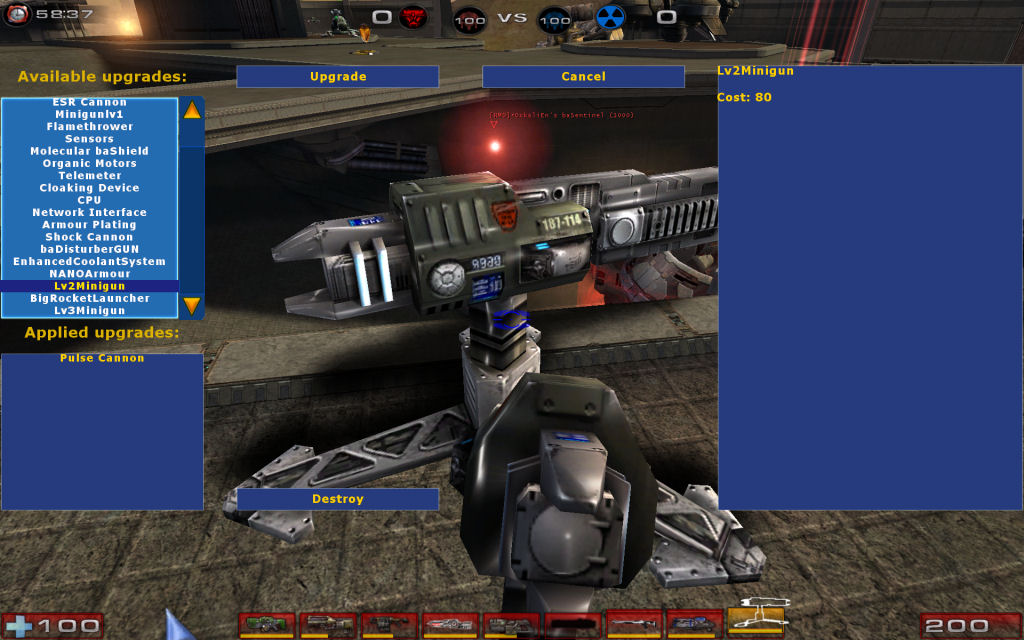 Here is the sentinel after being upgraded to a LVL2 Minigun.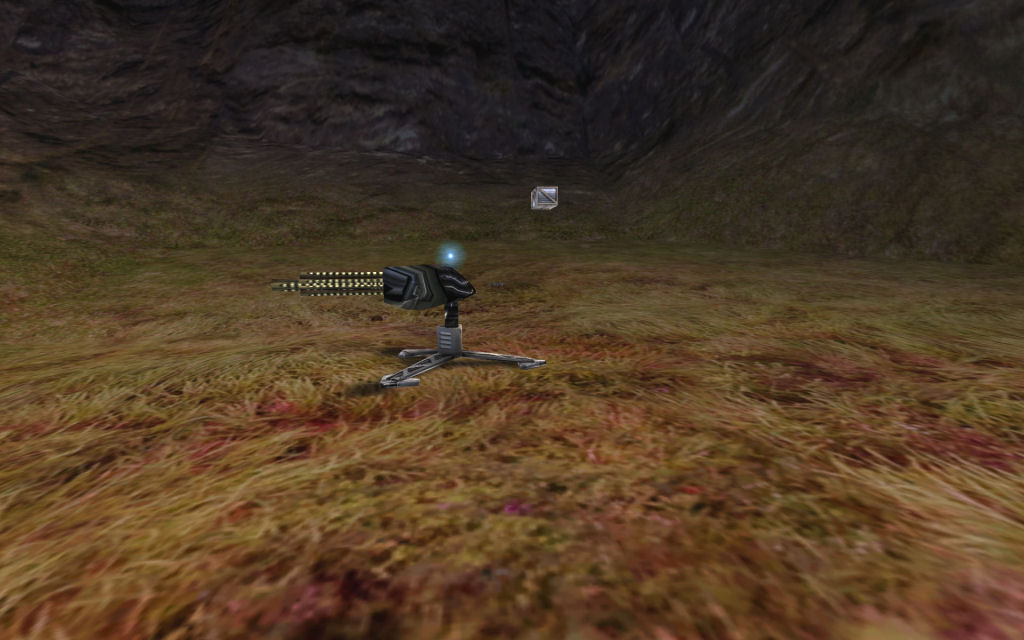 Collect more ammo by picking up ammo crates that are found around the map. There are large crates worth 200 points, and small crates worth 100 points.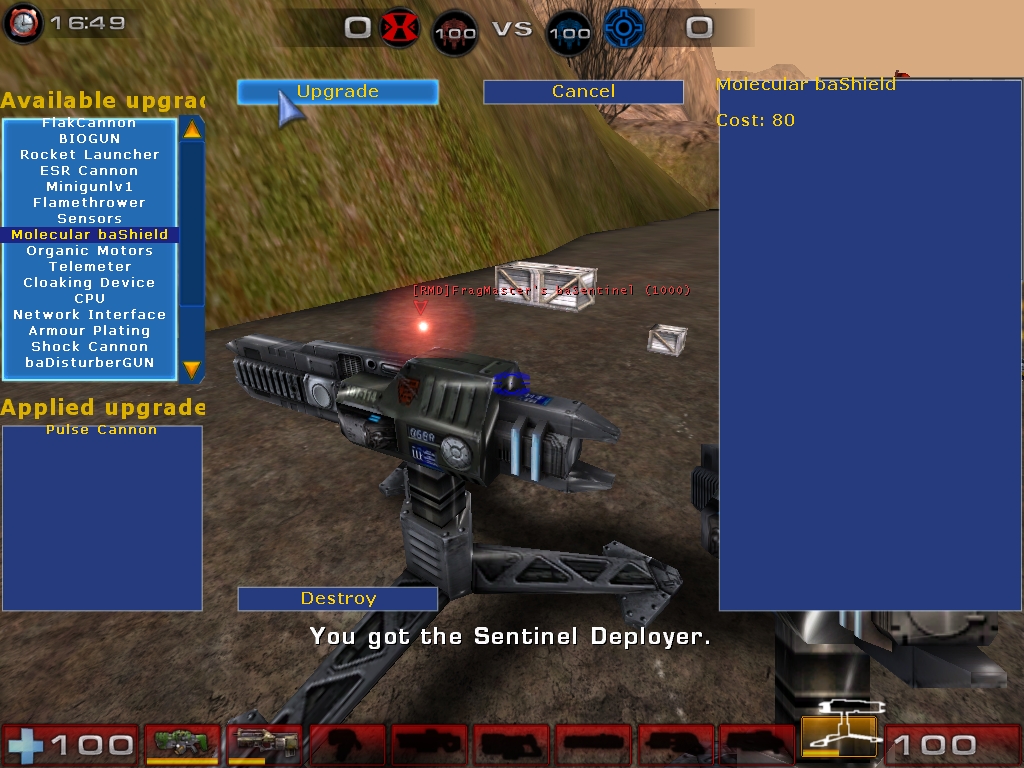 Here is the sentinel after being upgraded with an energy shield.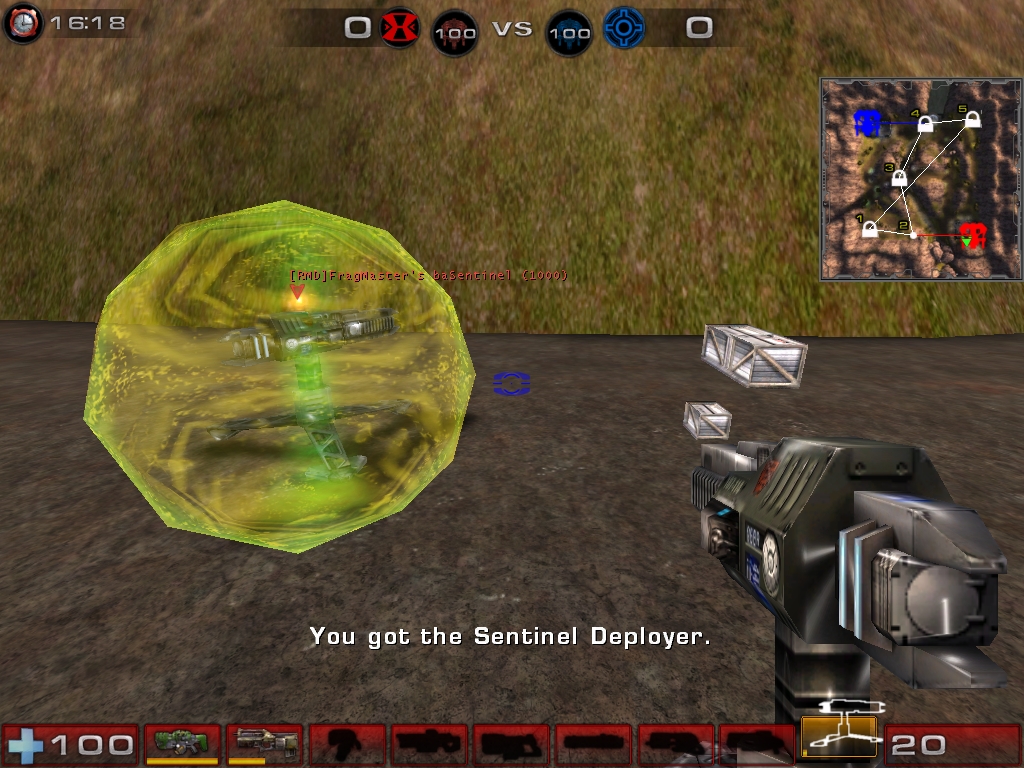 And there you have it, the sentinel basics. Play around with different upgrades to see what they do. The most powerful sentinels are generally agreed to be-
1) the ESR Cannon - Instantly deadly against fully shielded/armored players, somewhat effective against light vehicles. Weakness- tell-tale red beam gives away sentinel's location.
2) the LV3 Minigun - utterly brutal against all vehicles, kills players too, though not instantly like the ESR Cannon. Strength- more difficult to locate than ESR
3) the Inferno Cannon (Ceiling Mounted) - Devastating against players, not very effective against vehicles. Strength- Very Fast Setup, and requires less than 200 sentinel ammo points to be deadly, and kinetic energy "knocks back" players uncontrollably. Weakness- Tell-tale, easy to track beams give away it's location, and very weak against vehicles
Here is another tip- Sentinels can be mounted on ceilings and overhangs too! There is a whole different set of upgrades available for ceiling-mounted type sentinels!
First, stand under a surface that is not too high: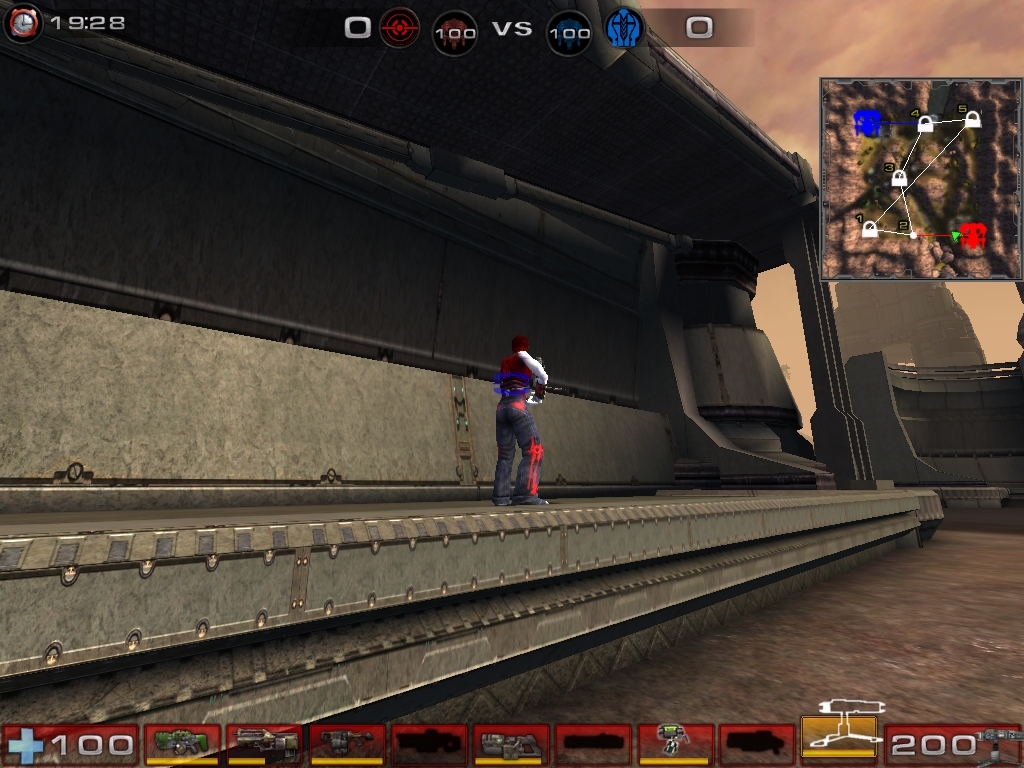 Look up while holding the deployer: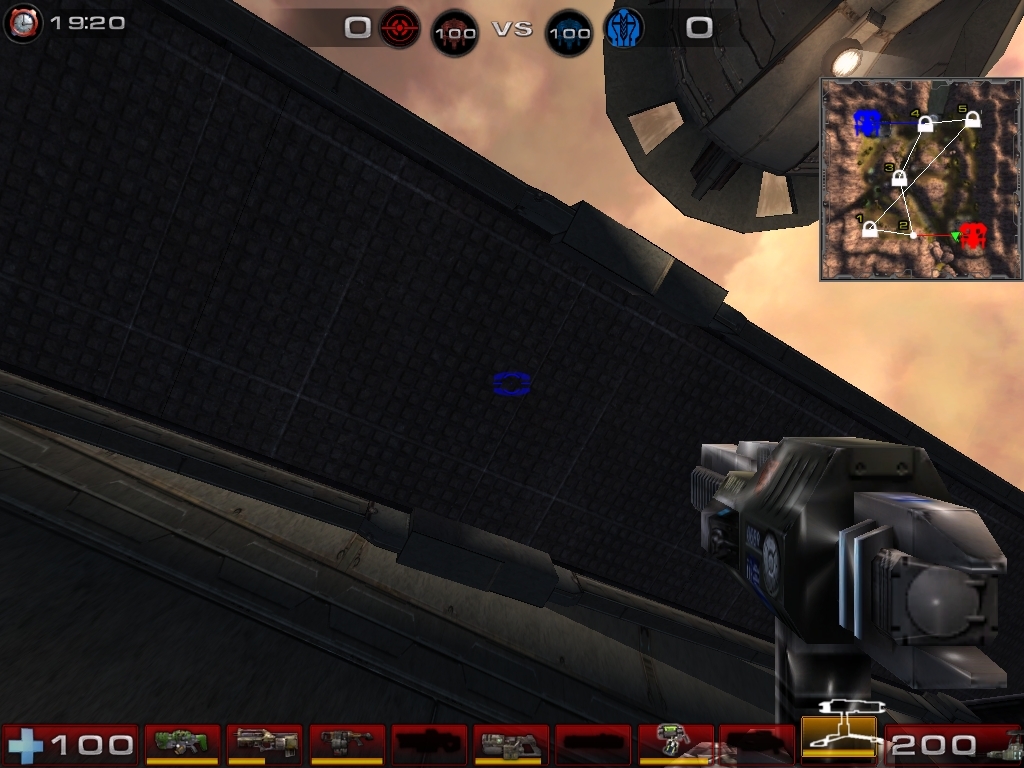 Press fire and your ceiling sentinel will be deployed (if the surface is suitable; if not you will see a message stating that):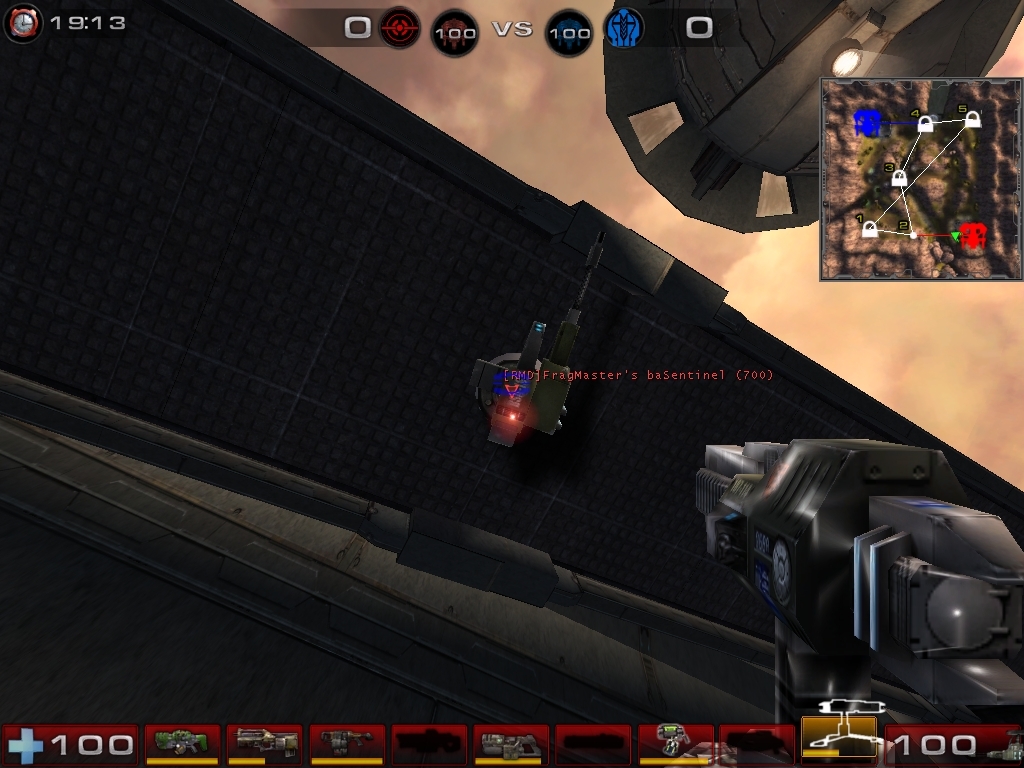 Note that new ceiling mounted sentinels have less hit points (700 vs 1000 for a new ground mounted one):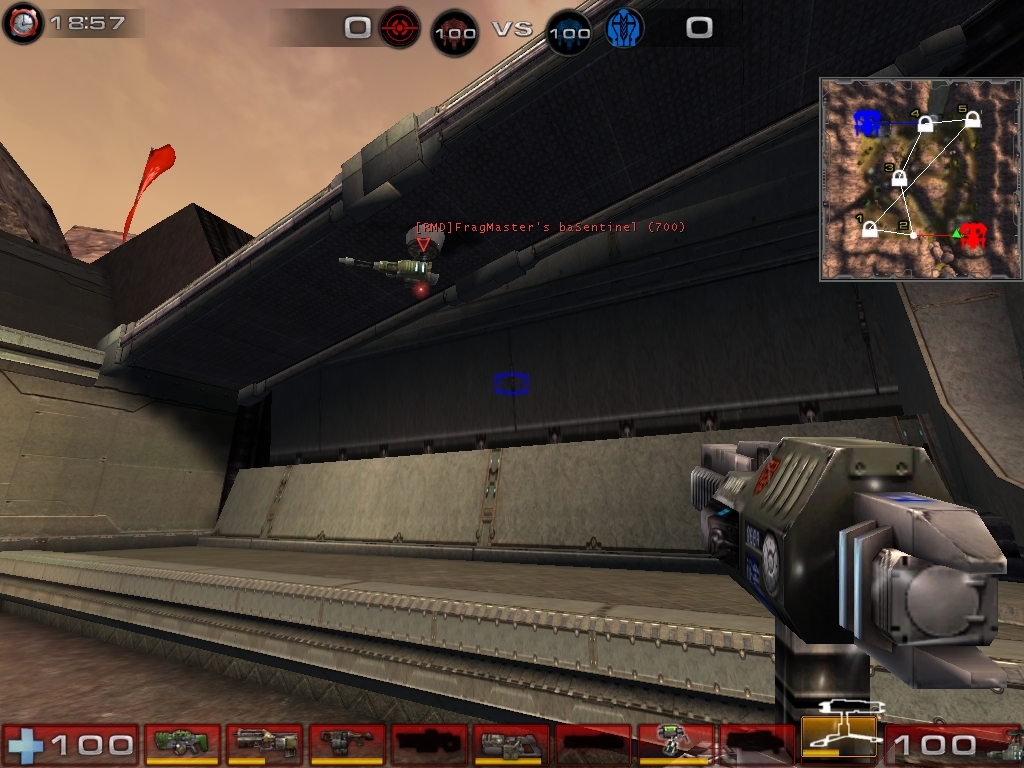 You can then upgrade you new sentinel with some weapons etc. from this menu: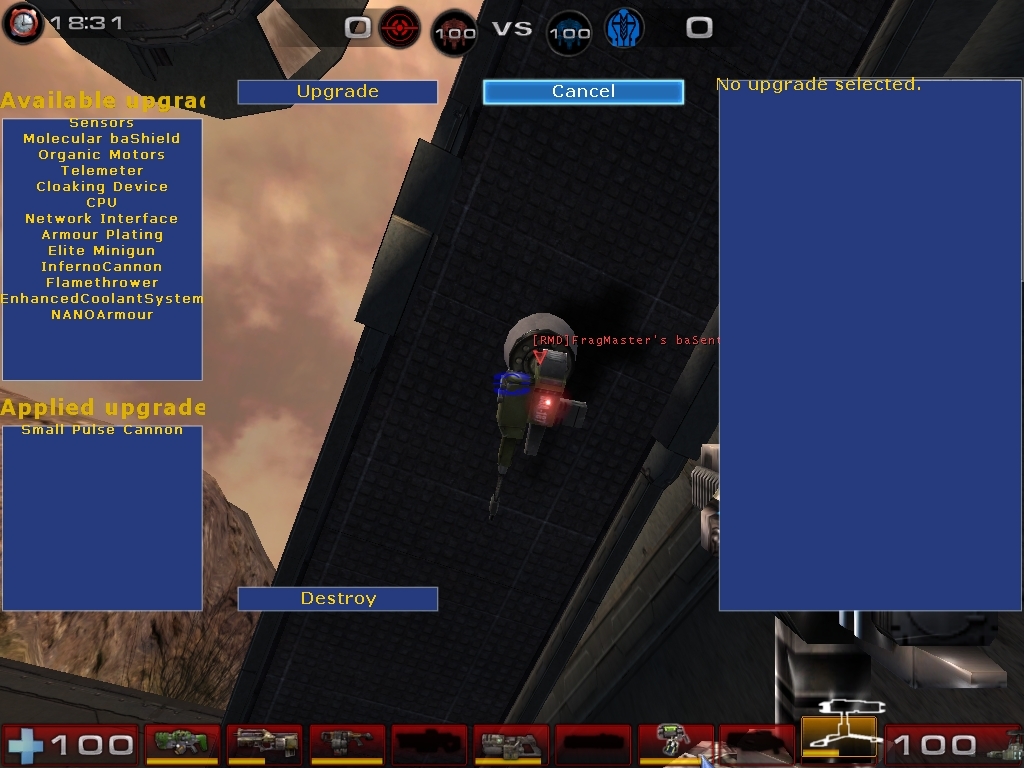 Description:
The ADS-2 "Sentinel" automated defence system was designed to help defend large installations when available personnel are limited in number. It comes with everything necessary to set up a barrier of formidable firepower. This includes components to create cannon, and the Sentinel Deployer, which can be loaded with components and then used to construct a cannon on-site virtually instantaneously, or to repair or upgrade an existing cannon.
The Deployer can be configured to construct either of two types of Sentinel cannon:
Heavy floor cannon:
Mounted with the most powerful regenerative energy weapon that Evil Corp. has ever used for an automatic cannon and covered in tough armour, the floor cannon can withstand a lot of punishment, and dish it out too. The floor cannon has a modular weapon mounting system allowing various different classes of weapons to be used.
Light ceiling cannon:
By sacrificing power output, the size of this cannon has been reduced significantly, keeping its profile low whilst leaving enough room spare to fit extremely sensitive optical and auditory sensors. Not even the most stealthy of mice could creep past one of these.
To actually place a cannon in-game, you must use the Sentinel Deployer, which can be used to place, repair, upgrade and remove your and your team's Sentinels, and sabotage enemy Sentinels. It starts with no ammo, so you must first go and pick some up. You need 100 ammo to place a Sentinel, so one large or ten small ammo pickups are required.
Placing Sentinels:
Press primary-fire on the Deployer. If you are facing straight ahead or down and there is enough room, it will spawn a floor cannon, which will appear a short distance in front of you and then fall to the ground. If it lands on a suitable solid surface it will activate. If it lands in water, or anywhere else unsuitable it will be destroyed, wasting the cannon. The cannon are tough enough to survive quite long falls, but being very heavy they will take some damage from anything but a very short fall. If you are facing up, and at a suitably flat area of ceiling not too close or far away, it will automatically attach a ceiling cannon to the ceiling. Both types of Sentinel cost 100 ammo to build.
Repairing Sentinels:
Simply point the Deployer at the damaged Sentinel from close range and hold down the secondary fire button. Sentinels are repaired at the rate of 15 health for one ammo. You can only repair Sentinels in team-games (including Invasion), not DM. You can repair any Sentinel belonging to your team. Sabotaging costs no ammo.
Sabotaging Sentinels:
Use the same procedure as for repairing, but point at an enemy Sentinel instead. Each time the Deployer sabotages the enemy Sentinel, it will cause some damage and there is a chance that it will be able to destroy an upgrade (if there are any). This is a good way to quickly debilitate a heavily armoured and shielded Sentinel.Sentinels do not automatically target you when sabotaging, so if you are quiet and stay behind their sensors you may be able to completely destroy them without being spotted.
Upgrading Sentinels:
Point the Deployer at a Sentinel at close range and press primary-fire. This will bring up the upgrade-menu from where you can apply upgrades to the Sentinel at a cost of some ammo. The top-left box lists the upgrades that can be applied. Click on one to see a description of it in the box in the right, including how much ammo it will cost. The bottom-left box shows upgrades that are already in place. Initially this will contain just the default weapon. After selecting an upgrade from the list, click on the 'upgrade' button to apply it. If you decide you don't want to upgrade after all, click on 'cancel'. You can only upgrade your own Sentinels, not those of your team-mates.
Removing Sentinels:
This can be done via the upgrade menu just like upgrading. Press the 'destroy button'. Destroying a Sentinel will return half its cost in ammo to you. You can only destroy your own Sentinels, not those of your team-mates.